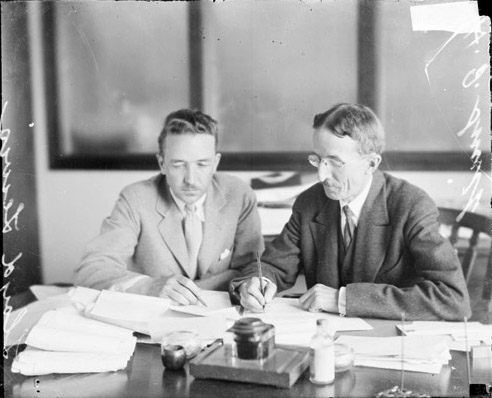 I'm reading
Chicago: The History of its Reputation
by Lloyd Lewis and Henry Justin Smith, and I must say it is one of the most quotable Chicago history books I've read in a long time. For good reason. The book was written by two seasoned newspapermen and they knew how to turn a phrase to make impact. The photo to the left is Lewis and Smith from the
Chicago Daily News
negatives collection at the Chicago History Museum (DN-0088867).
Lloyd Lewis (1891-1949): "After 12 years as publicist for Balaban and Katz, in 1930 he joined the
Chicago Daily News
as drama critic, becoming subsequently sports editor, managing editor, and a popular columnist. A gifted raconteur rich in friendships with the great literary, artistic, political, and sports figures of his time, Lewis was an ardent Chicagoan and Midwesterner with a voracious interest in the Civil War. His published work included
Chicago: The History of its Reputation
(1929, with Henry Justin Smith); "Jayhawkers," a three-act Broadway play coauthored with Sinclair Lewis (1935); and highly regarded biographies of Generals Sherman and Grant. His friends included Carl Sandburg, Sherwood Anderson, Frank Lloyd Wright, Sinclair Lewis, and Adlai Stevenson." (
Encyclopedia Chicago
)
Not only did Lewis count Frank Lloyd Wright among his friends, but Wright designed his
Libertyville home
located on the Des Plaines River at 153 Little St. Mary.
My brief research on Henry Justin Smith revealed that he was Managing Editor of the Chicago Daily News. More about him was hinted in the 1931 review of his book
Chicago: A Portrait
. And the
Newberry Library
offered this short biography: "Henry Justin Smith, a native of Chicago, IL, was born in 1875 to Justin A. and Mary L. Smith. He attended the Morgan Park Military Academy and the University of Chicago.
"He became a reporter for the
Chicago Daily News
in 1899. He advanced as the city editor from 1901-1906, the assistant managing editor from 1906-1913, and the news editor from 1913-1924. He left the
Chicago Daily News
from 1924-1926, serving as assistant to the president of the University of Chicago. In 1926 he returned as managing editor. He kept this post until his death from pneumonia on February 9, 1936.
"In addition to his career as a newspaper man, Smith was also a historian and an author of fiction. He wrote several books about Chicago including
Chicago: The History of its Reputation
, co-authored with Lloyd Lewis. Smith wrote several popular fictional works, including
Josslyn
and
Deadlines.
In 1931, he was awarded the Chicago Foundation for Literature's fiction prize."
Lewis and Smith also co-authored
Oscar Wilde Discovers America (1892)
[written in 1936] and the book is now on my "you've got to read this" list.
But, let's get back to the book written by these two gentlemen. Here's a sample from the Introduction:
"It will take a good part of a life-time to see it all. [Chicago] And by the time the observer has studied one part, he may find that another part, when he goes back to it, has changed beyond recognition.
The city has a daemon - Innovation.
It has come to the height of a passion for tearing up, improving, substituting, enlarging. It is in a frenzy of discontent with everything that was big enough for the last generation; and of course, hardly any of those things are really big enough for this one."
Those lines could have been written yesterday and, to me, they are quite poetic. Granted, I have a romantic view of history; it is a privilege and benefit of being an amateur. But, those words are just as appropriate today as in 1929 or 1893.
I like this book and wanted to share its quality writing. I've included some links for
Reputation
and a few other of the duo's books available on the Internet Image digitized book site, but after you get a feeling for them there, visit
Alibris
or
Amazon
or your personal favorite used book seller and get a hard copy...starting with
Chicago: The History of its Reputation
.